Leprechaun vs. Lucky Charms
Did leprechauns start out scary or cute?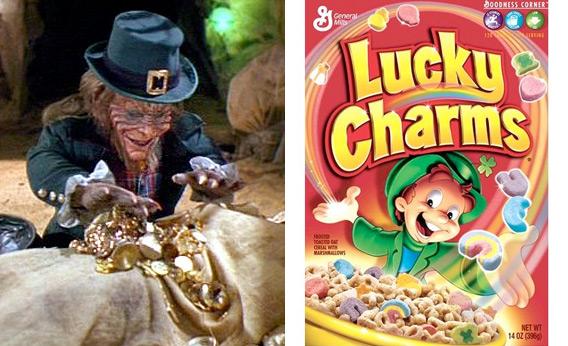 Leprechauns can be creepy, as in the movie 
Leprechaun 2
 , or cute, as in the spokesman for Lucky Charms.
Still from Leprechaun 2 courtesy Trimark Pictures. Lucky Charms box courtesy General Mills.
This St. Patrick's Day, television viewers will have their choice of two leprechaun-themed made-for-TV movies: Syfy's horror production, Leprechaun's Revenge, or a Hallmark romance called Chasing Leprechauns. Leprechauns are often presented in American culture as either murderous (as in the Leprechaun film franchise) or harmless (as in the Lucky Charms mascot). In Irish folklore, were they originally supposed to be scary or cute?
A little of both. Depictions of leprechauns in the Irish oral tradition have been varied, but most accounts had them as humanoid figures, about the size of a mouse, with big feet—a cute creature, to be sure, but also a tricky one that could turn deadly if not treated with proper respect. Some of a leprechaun's tricks would be more annoying than dangerous. He might show you the location of a buried pot of gold by tying a ribbon around a tree, for example, but when you came back the next day, he'd have put ribbons around all the trees to prevent you from finding it. Or maybe he'd grant you three wishes, and then he'd trick you into making a fourth wish, thereby undoing the first three. But in other stories, a leprechaun might kidnap you, replace your infant with a changeling, or even kill you if you came too near his treasure.
According to legend, however, leprechauns usually won't trouble you if you leave them alone. Some farmers used to make leprechauns offerings of whiskey with the hope of ensuring a good harvest and healthy livestock. Leprechauns are said to like alcohol, and according to some traditions they work as distillers. (They also work as cobblers, metalworkers, or bankers.) There's also a drunken variant on the creature called the clurichaun.
Leprechauns made a resurgence a few decades later with the 1947 Broadway debut of Finian's Rainbow, a musical in which a leprechaun and his magical pot of gold teach a racist Southern senator a lesson about tolerance. (Francis Ford Coppola later turned this into a movie starring Fred Astaire.) Leprechauns played similarly mischievous but goodhearted parts in a few films over the next two decades, including a Disney adaptation of Kavanagh's book in 1959. Lucky Charms breakfast cereal, which featured a leprechaun named Lucky as its official spokescreature, appeared on store shelves in the early 1960s. This association between leprechauns and luck may have to do with the traditional belief that leprechauns could prevent farmers from experiencing misfortune, but chasing after a leprechaun to steal its food—as the children in Lucky Charms commercials have sometimes done—would more likely enrage the creature than bring good luck.