2015 Walk to Save Animals
Saturday November 7, 2015
7am to 12pm
Register Today
As part of this event, you will receive a personal fundraising page when you register.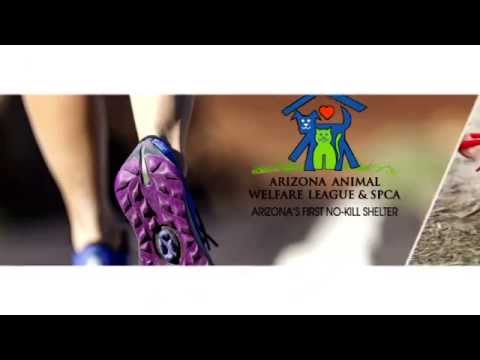 Why Walk?

The Arizona Animal Welfare League & SPCA's Walk to Save Animals 2k & 5k walk is a tradition for many Phoenix residents and AAWL alumni families. This family and pet-friendly event is AAWL's largest annual fundraiser, bringing out more than 3,000 people and dogs to help raise funds for the thousands of homeless and medically in-need animals AAWL rescues.
By registering to participate as an individual or a team in the 2015 Walk to Save Animals, you are directly helping to care for more than 4,500 homeless pets that come into AAWL's shelter each year. The funds raised at this event allow AAWL to save animals at risk of euthanasia, provide medical care to sick or injured animals, provide additional behavior training to make pets more adoptable, and much more.
The Walk to Save Animals is more than just a 2k & 5k fun run! Participants can shop pet related vendors, gather tons of freebies for fido in the Pet Club Market, win prizes, view demonstrations like flyball and agility, enjoy refreshments, experience fun activities with your furry family members, and much more! Bring the entire family and spend the day at Tempe Town Lake helping to save lives!
VIEW EVENT MAP
REGISTRATION TIMES
Online registration closes at 5 p.m. on NOV. 5, 2015
Day-of registration opens at 7 a.m.
5k Walk will start at 8:45 a.m.
2k Walk will start at 9 a.m.
REGISTRATION FEES
Adults $35
Teens (13-17 yrs old) $30
Kids (12 yrs or under) Free

Grab your friends, family and co-workers and walk as TEAM! Walk teams make a huge difference in helping us reach our fundraising goal, which is why we hope you'll form a team, collect donations in honor of your pets, and join us for all the fun as a group on Nov 7th.
VIEW TEAM INFO
DOWNLOAD YOUR PERSONALIZED WALK TEAM FLYER
DOWNLOAD A FORM TO HELP TRACK PLEDGE DONATIONS

This event will be one for the Record Books! We are going to break a Guinness Book World Record for having the "Largest Gathering of Adopted Shelter Animals in One Location" at this year's Walk to Save Animals. Bring your rescue to Tempe Town Lake to be part of the official count! Please note: You MUST bring copies of your dogs adoption paperwork to the walk for your pup to be counted. Your animal can be rescued from any shelter (and any state) but official paperwork must be provided. 
Enjoy refreshments from local Food Trucks before and after the walk.
Check out the Pet Club Marketplace! Get everything you need for your pooch in this area sponsored by Pet Club, featuring more than 20 pet food and product vendors giving out tons of samples.
Smile! Have your dogs take a picture with Mr. & Mrs. Clausor get a Custom Caricatureof your pups in the Pet Fest.
Take advantage of an amazing Microchip & ID Tagdeal. For just $10 you can get your pet microchipped and a brand new ID tag (or $6 each) to ensure that if they ever escape they are returned to you safely and quickly. And for a little extra safety coverage, have your dogs take part in our Blessing of the Animals before they leave.
Shop tons of pet-friendly merchandise and service booths. You'll find fancy collars, cute dog beds and more toys than your pup will know what to do with. Don't worry cat lovers, there will be plenty of kitty products for you to shop and bring home to your cat napper.
Get your pup to harness their energy and test their skills! Check out the K9 Agility Course &Lure Course for a run through the obstacles that will wear out even the most energetic of dogs.

More than 3,000 dog-loving pet parents attend the Walk to Save Animals every year. This is the ideal space to showcase your company and support a local Valley organization. Support the Walk to Save Animals, become a Sponsor!
VIEW SPONSORSHIP INFORMATION